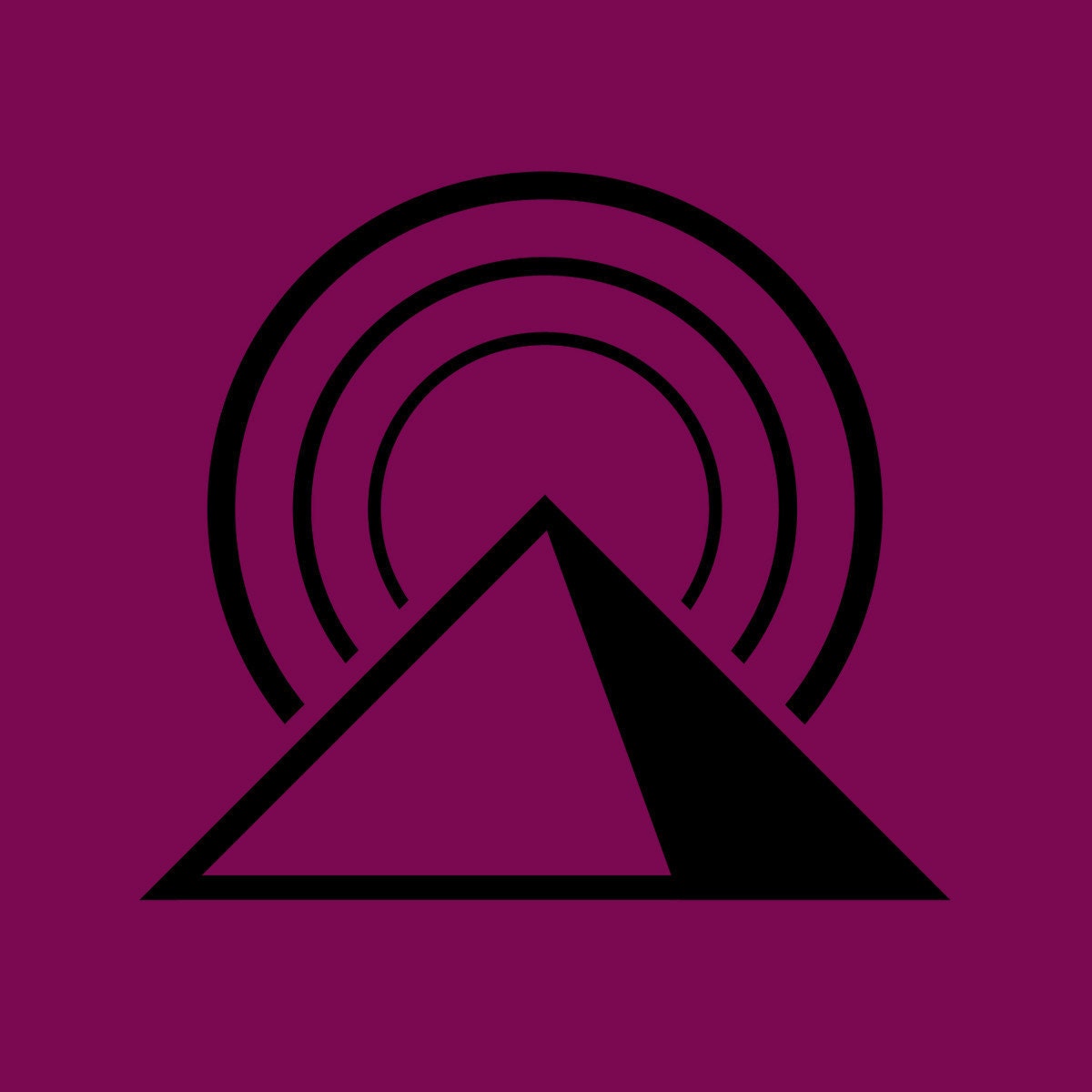 Neil Scrivin is the man behind  Fonolith Records - described as "the home of high concept, retrofuturist darksynth," by The Wire Magazine. It's a great encapsulation of what is produced from the pulsating pyramid! I've got a few Fonolith releases from one of Scriven's side projects - The Night Monitor, and thoroughly enjoyed getting lost in the soundscapes. I created a cosmic link to the throbbing pyramid (also known as an email) and asked a few searching questions:
1.      How did Fonolith begin – what were the experiences and processes which brought you to set it up?  
 I've been making music for quite a long time, since the early '90s. I had some brief experience in bands, but what really interested me was working alone with electronic gear - at that time, an Amiga computer running OctaMed and a borrowed Roland Juno from school. My first actual releases were only ten years ago, when I had a couple of albums out on Manchester's Skam Records (as Phono Ghosts and Meatbingo). After things kind of broke down with that label, I decided to start up Fonolith as a more direct way to get my music out on my own terms. That was in 2016. Initially I did have plans to release music by other artists as well as my own, but in reality the sheer amount of work involved meant that it would have taken over time spent on my own projects, so ultimately it has primarily been an outlet for my own music under various aliases.   
2.      You work under the moniker of The Night Monitor. Your output takes inspiration from different British paranormal or supernatural events, such as The Owlman of Mawnan and and the Welsh Dyfed Enigma. How do these projects begin and develop?  
 I started working as The Night Monitor in 2018. I've been fascinated with the paranormal and Fortean topics from a young age, inspired initially by 'The Unexplained' magazine in the early '80s and the ubiquitous Usborne 'World of the Unknown' series - a staple of many a school library in the 1980s.   
The first Night Monitor album came about through talking to Stuart McLean from Bibliotapes (a tape label releasing soundtracks inspired by books - novels mainly,  but I think mine was the first non-fiction). I chose to base my album on Guy Lyon Playfair's classic account of the famous Enfield poltergeist case, 'This House is Haunted', and that was the impetus that really kicked the project into life.   
The Fortean influence had seeped into my music before TNM, but I'd always wanted to properly explore those themes in more depth. It might sound crazy now, but I'd been thinking about making an album based on the 'Welsh Triangle' UFO wave for 20 years before I actually made 'Spacemen Mystery of the Terror Triangle'! But the timing finally felt right to do it. Likewise with the other TNM albums so far, they are all based upon topics which had been bubbling around in my consciousness for years. So perhaps I needed to create The Night Monitor project as a way to finally get these ideas out of my head!   
I'm always concurrently working on multiple projects at once, and have a long list of potential ideas for albums and tracks. Each album has its own distinct musical approach, which is very much inspired by the era of its subject matter. Ultimately, I'm trying to evoke the same sort of feelings I had from reading about this stuff in my youth. The wide-eyed, child-like fascination I had as a young boy. Those feelings have stayed with me, and strongly informed my creative pursuits to the present day.   
Creatively, as The Night Monitor, I take the subject matter very much at face value. Regardless of my own perception as to the reality or otherwise of the events in question, I always approach things from a position of absolute belief when considering things from an artistic perspective. I feel this is important, because it's an essential component of why I was attracted to the source material in the first place - it was always presented as being true, or possibly true. That's very important. What I want to present is an artistic attitude towards the experience, without dismissal. People experience weird things, and I want to channel that in my music as TNM, without casting aspersions. The Night Monitor is a true believer. I, myself, am generally a bit more sceptical.   
3.      I believe you create much of the artwork for your releases too. Please talk a bit about your background in art and design and again the process in relation to the music.  
 I was into drawing and art before I ever got into making music, but once I discovered music, the visual arts basically went out of the window for many years. It was really only the need for album cover artwork which actually drew me back into it.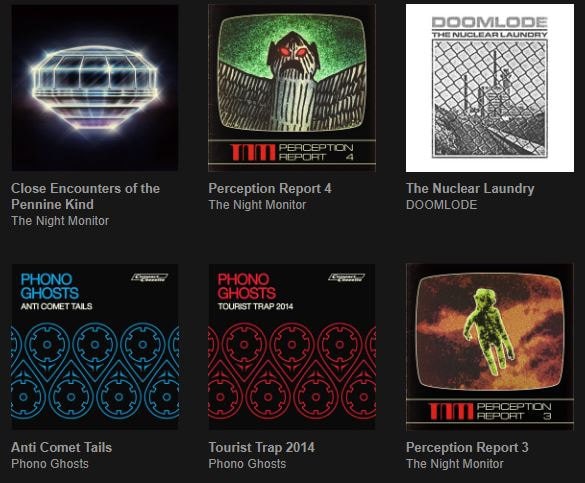 The artwork is really important to me, though. Often, it's as important as the music. A big part of my inspiration is visual, and that's always on my mind whenever I start a project. Particularly with the Fortean stuff, there's such a strong seam of amazing 'outsider art' associated with that, which is a very big influence.   
I do have a kind of love/hate relationship with the visual side, though. I get much more frustrated with the artwork than the music, and doing one obviously eats into the time available to do the other, which is a struggle sometimes. Although I often enjoy doing the artwork, there are a lot of really fantastic visual artists out there and I do think about using other artists for my releases, but having basically zero budget for such things is the main barrier to that!    
4.      You are based in Blackpool. The British seasie is a bizarre and liminal space at the best of times. How much does it influence your psyche and creativity?
   I've been asked this a few times lately, and my usual answer is that Blackpool doesn't have much of an influence at all. But having thought about it a bit more, there is a sense of isolation here which has likely permeated my work to a degree. Certainly, I felt that growing up here. The perpetual cold, the grey waves and white noise of the sea, the weird 'out of place-ness' of the closed up amusements out of season. It's kind of an uncool place as well, and maybe that is a good thing. Perhaps my outlook and creative approach would be different had I grown up somewhere with a scene.   
5.      Take us through your workspace/set up. Do you have any rituals or quirks when you set to work on something?
   I don't have a particularly unusual setup really. A PC and a few synths. I like sticking to a set of tools which I really know inside out, so I can achieve the sounds I want quickly and intuitively. I'm happy to use software and hardware equally. Sound comes largely from the user, I think, not the gear. Or at least that's how it should be. Good monitoring is the most important thing, in my view.   
I have slightly different setups and approaches for different projects. For DOOMLODE, the aim is to work quickly with just a few simple hardware devices, everything is hand-played and multi-tracked. No PC. No editing. The idea being to exploit the limitations of the gear and working with tape/real time recording rather than sophisticated DAWs and sequencing. I find this a very liberating and inspiring way to work.   
My Phono Ghosts project is based entirely on samples from cassette tapes, as these were widely available as a cheap source of sample material in charity shops back in the '00s when I began collecting them.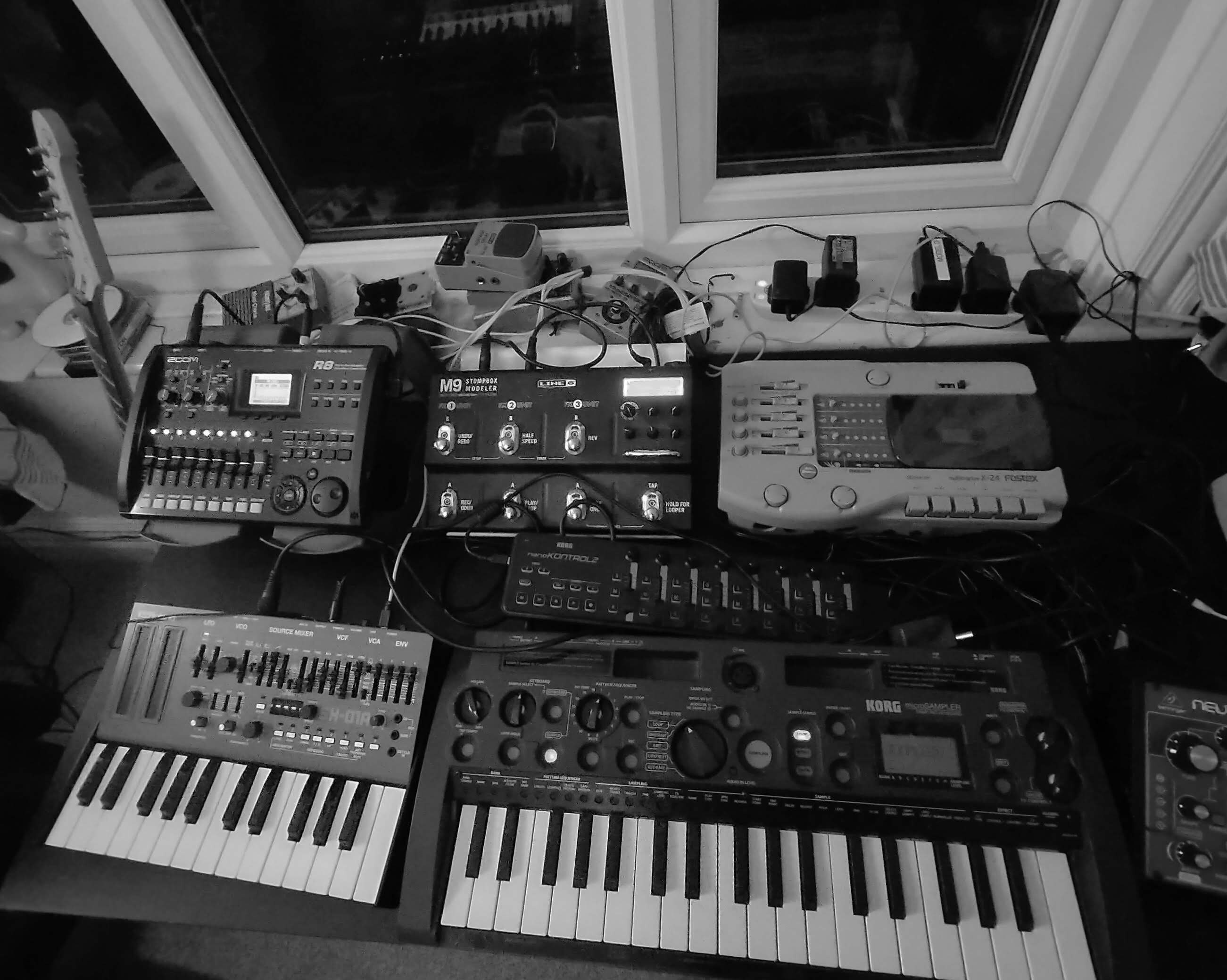 Mission Control  
Each Night Monitor album has had a slightly different setup and approach. I try to select certain instruments and sound sources which I feel best evoke the subject matter for each album.   
I generally always have a sound in my head before I begin work, and for both TNM and DOOMLODE there is a period of research as well. I like to immerse myself in the subject matter of whatever it is I am working on, and plan out ideas before I have recorded a single note. Hence why I include a 'further reading' section in the blurb of TNM releases!   
However, I'm content to capitalise upon happy accidents as well! And there is always some drift between the original intention and the eventual outcome.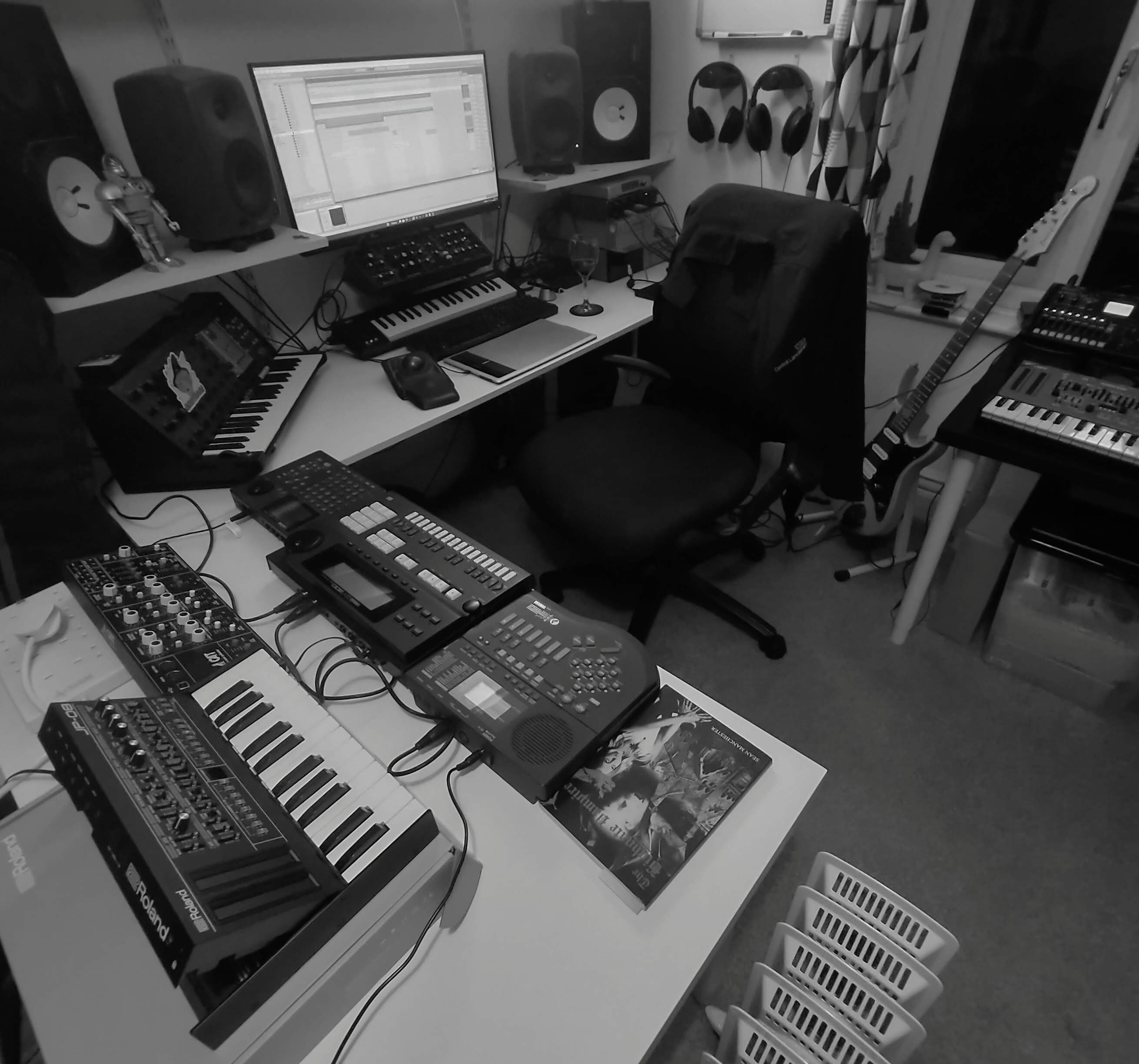 6.      How would you like Fonolith to develop in the near future?   
As far as Fonolith is concerned, this may be a quieter year. As of right now, I don't have any new releases scheduled, and this is probably the first time I've been in that position for several years. So I think a lot of 2023 for me will be about focusing more on the creative side of things and preparing new albums and projects.   
Having said that, I am planning to put out some physical editions of existing releases. Possibly some more CDs and tapes.   
I'm actually looking to get involved in other labels as an artist much more. Running the label and doing everything myself is incredibly time-consuming and exhausting! I often wish I could just hand an album over to someone else to release. Currently, it's all-encompassing - music/production/mixing/mastering/artwork/design/pressing/accountant/admin/promotion/socials… Overwhelming really. Sometimes it'd be nice to just have one job. On the other hand, I'm so accustomed to having total control that it can be difficult to let go of it!   
7.      What are your plans/projects for 2023?  
 I just released my latest album as The Night Monitor (Close Encounters of the Pennine Kind) which has been in the works for several years, so I'm glad to finally get it out there. The vinyl edition is already sold out but I'll be doing a cassette tape edition very soon.  
Window Area from Close Encounters of the Pennine Kind  
Also as The Night Monitor, I recently had a 7" lathe cut single out on Library of the Occult records, and I'm hoping to do more with LOTO in the future.   
I've already completed work on the fifth Night Monitor album, and that is hopefully going to appear either later this year or next. Currently working on the sixth! I never stop.  
I have a few remixes lined up for several artists this year. Hopefully more on that soon.   
Hyperlink Dream Sync (the band I'm in with Eric Sferro and Hayley Stewart) is finishing up our second album (first with Hayley) and we're hoping to get something out this year. That's been a lot of fun to work on and we're all excited to share it.    
I'm also working on a second DOOMLODE album, but it's currently too early to say when that might be coming out. I don't want to rush it - the process is enjoyable, even if the subject matter is bleak.  
 8.      Do you have any recommendations for reading, listening or watching that you think people should definitely check out?  
 I'm a big podcast listener, particularly on Fortean/UFO topics. If you have any interest in the history of the UFO subject, then Aaron Gulyas' 'The Saucer Life' and Rob Kristoffersen's 'Our Strange Skies' are both essential listening.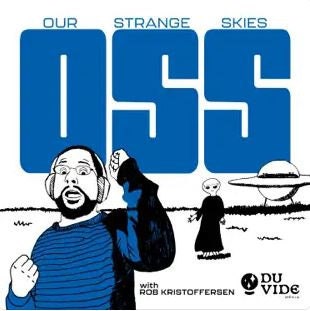 I'm usually reading some sort of dusty old UFO or paranormal paperback from the 1970s, but my partner recently bought me the Illustrated History of Ghosts and UFOs books by Adam Allsuch Boardman, and they are excellently illustrated and well researched too. I've also just ordered the recent reprint of The Haunting of Cashen's Gap from Guillemot Press, so I'm looking forward to that.   
I've just started re-watching The X Files again. Not sure if I'll make it all the way through, but I'm enjoying the early episodes for channelling that '90s aesthetic. Finally, I recommend people go and watch my mate Stewart Hamilton's short film The Beckoning, which came out last year (and I did the soundtrack for). Any labels interested in releasing the OST, please get in touch!
The next blog post will be 26th March