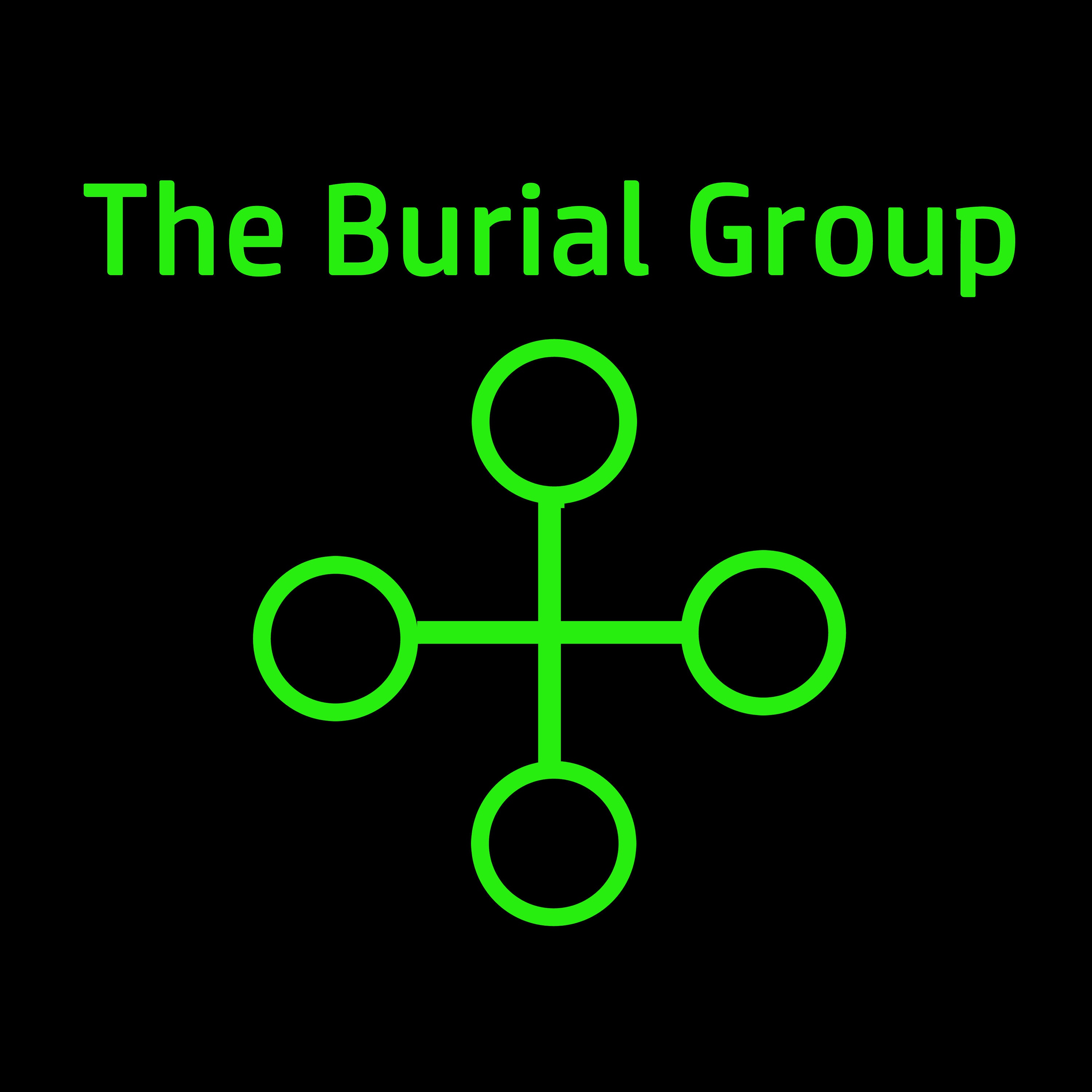 The Burial Group are husband and wife duo, Vernon and Isabel Broom. Both are early middle-aged and with a lively energy that comes, they explain, from not having children. Once upon a time they were both teachers and they tell me, jokingly, that the experience put them off having kids. 'We would like a dog though,' Isabel adds more sincerely. 
I first met them at the Know Not What, Know Not Where (KNW2) Conference, a symposium of the mind, landscape and beyond; a weekend of talks, readings and music which took place at the Winter Garden Pavilion in Cragsyke Bay. It was a wonderful event and by chance, The Burial Group, who performed, had booked the same hotel as I had and were actually in a room directly opposite mine. With little to do in a seaside town out of season, we bonded over cheap red wine and explorations of the seafront. By the end of the weekend, we were good friends, all sharing an interest in things uncanny, paranormal and slightly off-kilter.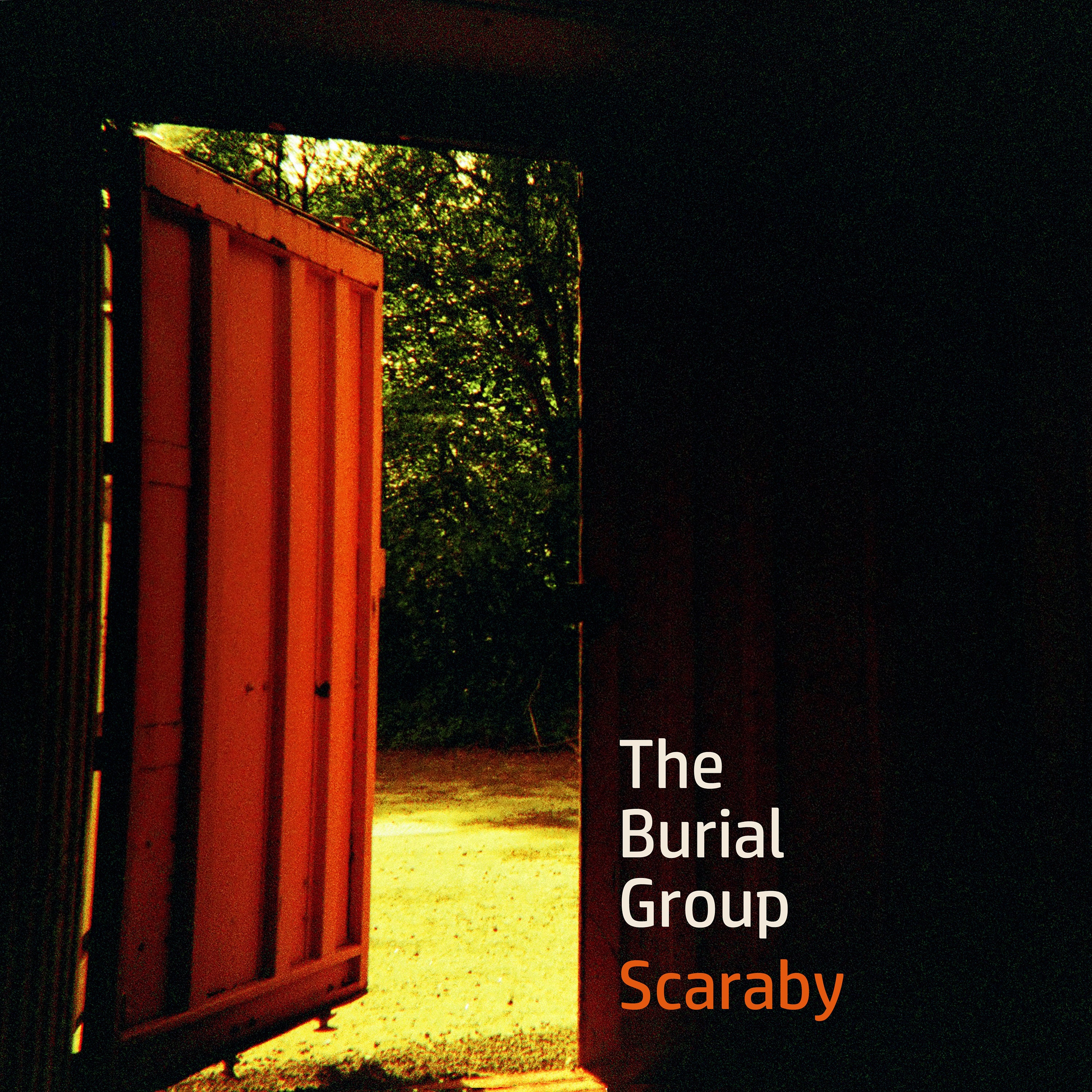 Since forming our friendship a few years ago, The Burial Group have often shared their music and ideas with the Occultaria of Albion. Last year they released their EP titled, Scaraby. They were inspired after I'd told them about the weird Lincolnshire Wolds village of Low Scaraby (it was covered in OA.7: The Occultaria of Albion Vol 6 & 7 Double Edition: Wickstead House / Low Scaraby) and Vernon and Isabel decided to rent a cottage on the edge of the village and record music whilst there over the winter and spring. 
You can hear the results: https://theburialgroup.bandcamp.com/album/scaraby-ep  
I am with them again now to catch up and to find out what they're currently working on. As ever with Vernon and Isabel, they've suggested we meet at a rather singular location – the Chain Home radar tower at Stenigot in the Lincolnshire Wolds. It's a weird but beautiful place with stunning views across the Wolds.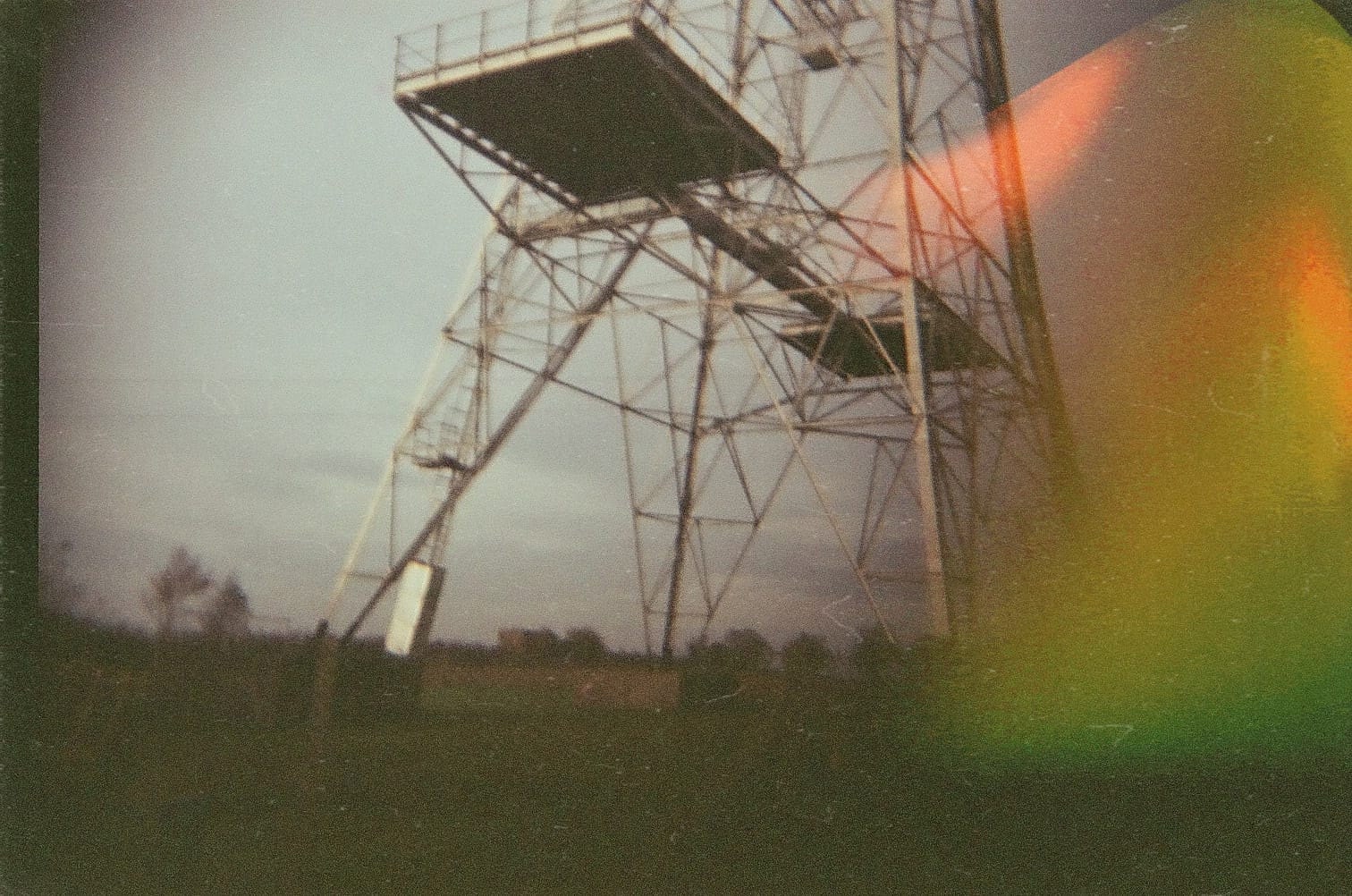 Bottom of the radar tower
Vernon informs me that the pylon-like structure is the most complete Chain Home transmitter tower surviving in its original location in the British Isles. Chain Home was the codename for the ring of coastal Early Warning radar stations built by the RAF before and during the Second World War. It seems appropriate that I'm meeting the producers of warped noises that sound like the dreams of large analogue electronic apparatus, at such a location.  
Isabel laughs as she tells me that Vernon once thought he saw a UFO whilst walking in this vicinity. 
'It was something bloody strange in the sky,' he confirms in all seriousness. 'And not just RAF or military.' He goes on to pull out a notebook from his bag and show me the quick sketch he made when he saw the unidentified object. It certainly seems unusual.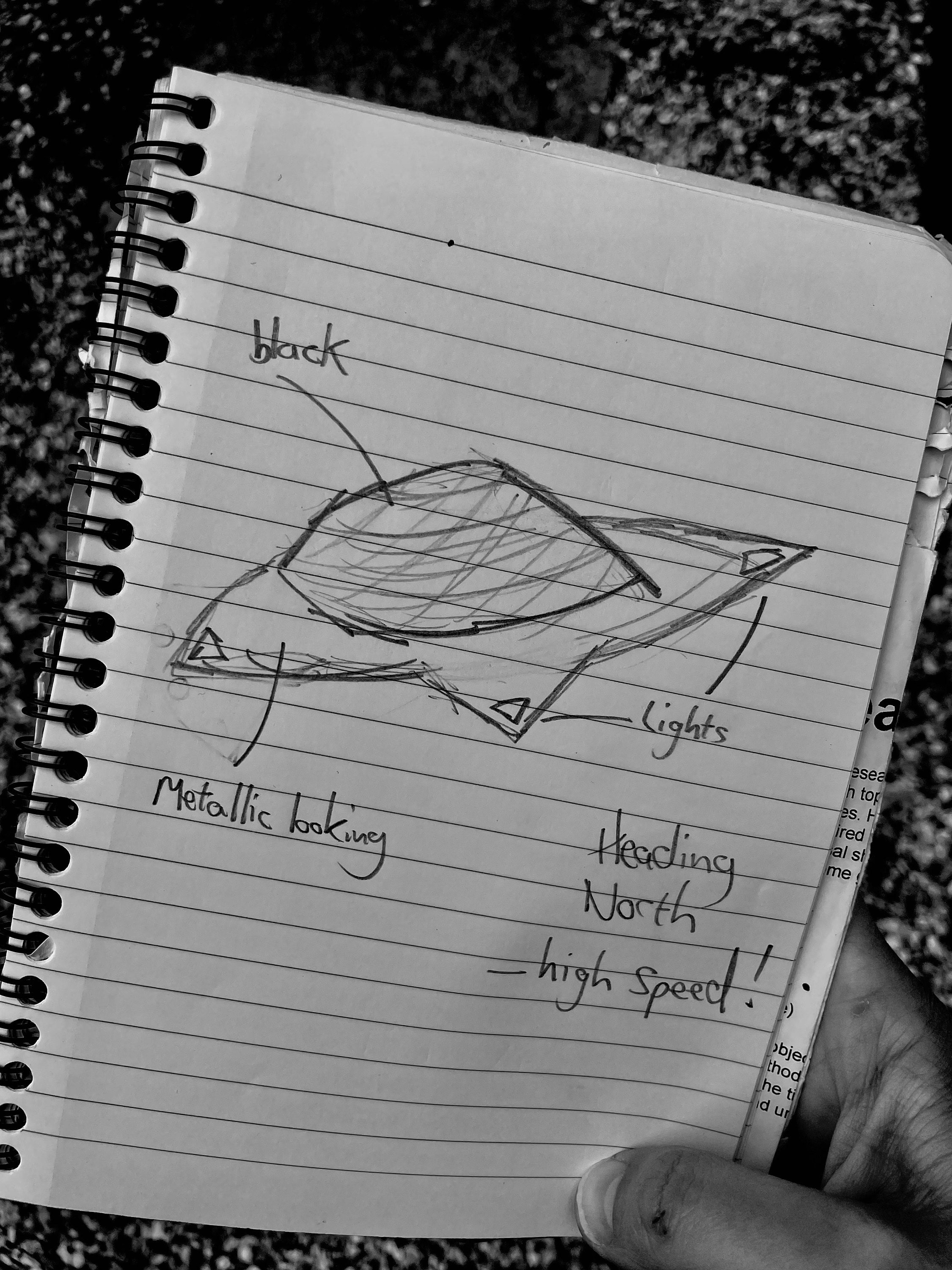 Vernon's sighting!
That's what I like about Vernon and Isabel – they're down to earth but have their minds in the sky a lot of the time. I explain my assessment of them, and they seem to agree. 
'You've got to work hard to maintain a creative life force in yourself these days,' Vernon nods. 'It's all too easy to succumb to the drizzle that's streamed at us from multiple sources.' He looks back at the tower. 'There's no early warning system in place for the attack of mindless sludge is there?' 
I'm not sure, but Isabel helpfully adds a bit of clarification. 
'I think sometimes there's no sense of a forward movement of culture and people are only required to use their imaginations from very limited sources for the most part. It's easy to stagnate.' 
This leads me to ask about their process and how they go about making their strange sounds. 
'Isabel is the dynamo,' Vernon tells me straightaway. 'She's the technical tinkerer as well.' 
Isabel was a teacher of design and technology and has been fascinated with electronics and bits of equipment since the nineties. 'One of the first instruments I ever made was a Stylophone,' she tells me. 'I got the circuit diagram and instructions from an electronics magazine. I made it for my GCSE and ended up getting an A.' Isabel was briefly a member of indie band The Flannelettes, as their bassist, but this only lasted for a short period whilst at university. The band went on to have a little success with a cluster of singles, with the raucous Teenage Mutation peaking at 35 in the charts, but Isabel was long gone by then.
Vernon remains tight lipped about his musical heritage, only mentioning that he's played in a folk band for a while. 
'We don't really have a strict process,' Isabel goes on. 'We just lock ourselves in the back room with an idea and our equipment, then see where it goes.' 
'I call it the mushroom approach,' Vernon adds. 'In the dark something usually ends up growing – just like a fungus.'  
As we continue to wander, I ask them about what they're currently up to and it seems as if their mushroom farm is very busy. 
Currently they are in the middle of two projects. 
'We're in the midst of writing pieces for the follow up to our Scaraby EP,' Vernon explains. 'We have lots of ideas swirling about at the moment, so we'll see what sort of creature it turns into. Right now, it feels like it's got a lot of darkness about it, but then I always say that whenever we're working on something.'
Isabel nods her agreement. 'Don't worry,' she says, 'there's going to be one or two sunny intervals!' 
The duo has completed two or three tracks so far and you can hear one of these right now:
If the coming of a second EP from the noiseniks whose sound was once described as 'like a forklift truck that had become sentient and started to make music' wasn't enough to get a little excited about, then their other project certainly is. 
Seven Times Around The Stones, Then Scream, is a 'lost' film written by Lee Fields and directed by underground Italian filmmaker Fabio Farella in around 1975. For a variety of calamitous reasons, the film, although more or less finished, was never released and languished in a vault for more than forty years. Recently, after the death of Farella, his daughter discovered the complete film in her father's archive and has contacted Lee Fields to help with getting it released. All that was missing from the project was a soundtrack – which is where The Burial Group come in.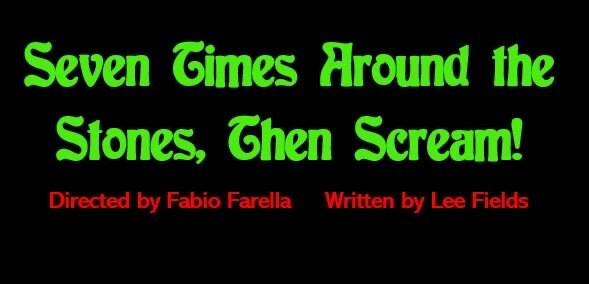 'We were so chuffed to be asked to create the soundtrack,' Isabel says with a huge grin on her face. We couldn't quite believe it when Lee Fields got in touch – we've been fans of his films for such a long time.' 
Excitingly, the soundtrack is a collaboration with another musician – The Linoleum Dept.
'It's been so much fun getting to work with another musician and one that is way more talented than we are!' Vernon laughs. 'If everything goes to plan, we'll be able to reveal all in the next few weeks. Things are sounding good, though. Really good.' 
With that, it begins to rain over the Wolds and so we turn about and head to our cars. I bid Vernon and Isabel farewell and they promise to keep me informed about everything they are going to release later this year. 
I can't wait!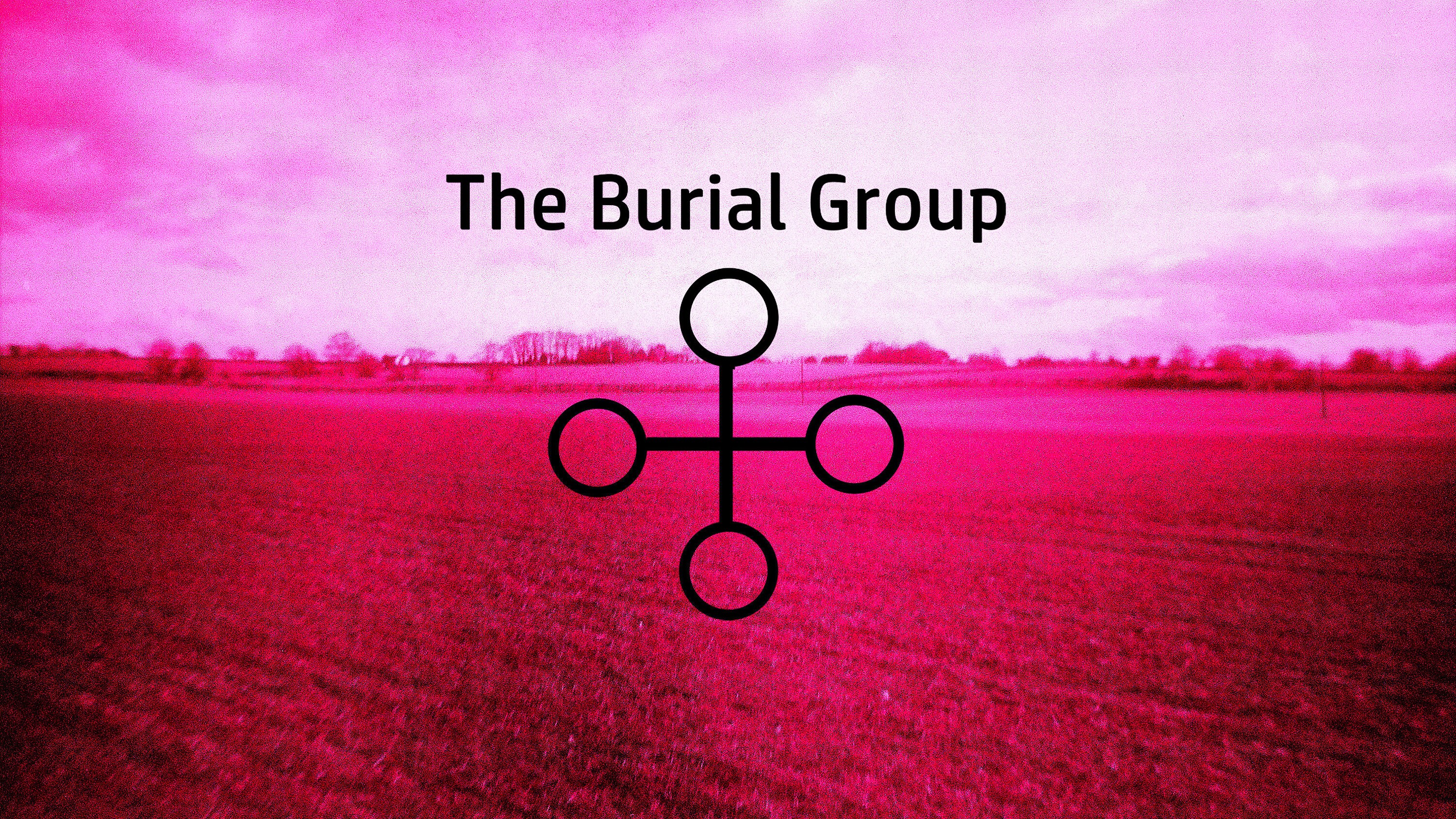 The next blog post will be on April 23rd